We're delighted to announce that Microsoft will once again return as Premier sponsor for PASS Data Community Summit 2023.
As Premier sponsor, you'll learn from Microsoft experts during the opening keynote on Wednesday, as well as at pre-cons happening Monday and Tuesday from Adam Saxton & Patrick LeBlanc, Brian Spendolini & Anagha Todalbagi, and Bob Ward, 25+ sessions throughout the conference Wednesday-Friday, a breakfast panel hosted by Bob Ward, and of course the Microsoft booth in the Exhibit Hall. As well as seeing the latest Data Platform demos and advancements, members of the Microsoft engineering team will also be on hand to answer the questions you've been holding onto all year long.
Microsoft introduces the new Vice President for Azure Databases, Shireesh Thota
Microsoft looks forward to introducing the new Vice President for Azure Databases, Shireesh Thota. In this keynote, Shireesh and friends from the Microsoft engineering team will demonstrate new innovation in the Microsoft data platform. From SQL Server and Azure SQL Database, to Azure Database for PostgreSQL, to Microsoft Fabric and Power BI: come find out all the latest and greatest that will keep your applications running fast and your analytics insightful.
Learn and ask about the latest in SQL Server and Azure
As Grant Fritchey, Redgate Advocate and Microsoft Data Platform MVP since 2009, comments: "The experience and skills that data professionals require is now wider and deeper than it's ever been. Organizations looking to get more value from their data are exploring different database types and platforms, which demands a broad knowledge of everything from performance tuning to Power BI, and SQL Server on-premises to Azure Database for PostgreSQL. The presence of Microsoft at the Summit will give attendees the opportunity to learn and ask about the latest thinking in SQL Server and Azure."
"Our mission is to help organizations drive a culture where every employee can make better decisions based on data. As premier sponsor of the PASS Data Community Summit, we're eager to support data professionals in growing their in-demand cloud skills by sharing the latest in modernization approaches and best practices for taking advantage of the whole data estate whether the data is in Azure SQL Database, Azure Cosmos DB, Microsoft Fabric, Azure Database for PostgreSQL, Azure Database for MySQL or someplace else," said Shireesh Thota, Vice President, Azure Databases at Microsoft, who will be giving the opening keynote at the event.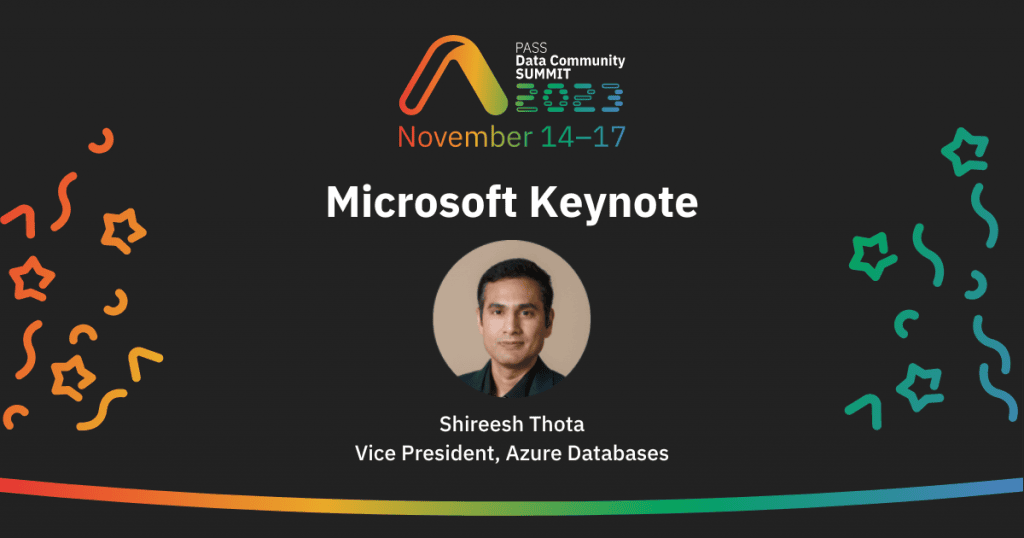 Registration is open now 
If you're ready to connect, share, and learn with fellow data professionals and industry leaders like Microsoft in Seattle this November, register now!
Are you interested in sponsoring Summit?
If your organization is keen to engage with the data community alongside major players like Microsoft, find out more about sponsorship opportunities.
Stay tuned…
As a warm-up for Summit, we're excited to be hosting a webinar with Microsoft in September. Be the first to hear more details – join the mailing list and follow us on Twitter and we'll keep you updated.