Call for Speakers is now closed
Thanks to all that submitted to the call for speakers for our first PASS Data Community Summit 2021!
We received over 640 sessions from more than 270 unique speakers and greatly appreciate your interest and support.
Our next steps are to review all of the submitted abstracts with an amazing team of volunteers that will be giving their time over the next five weeks.
We aim to send out results to all speakers in mid-August.
If you have any questions during this time, please don't hesitate to reach out to us at speakers@passsummit.com.
Submission results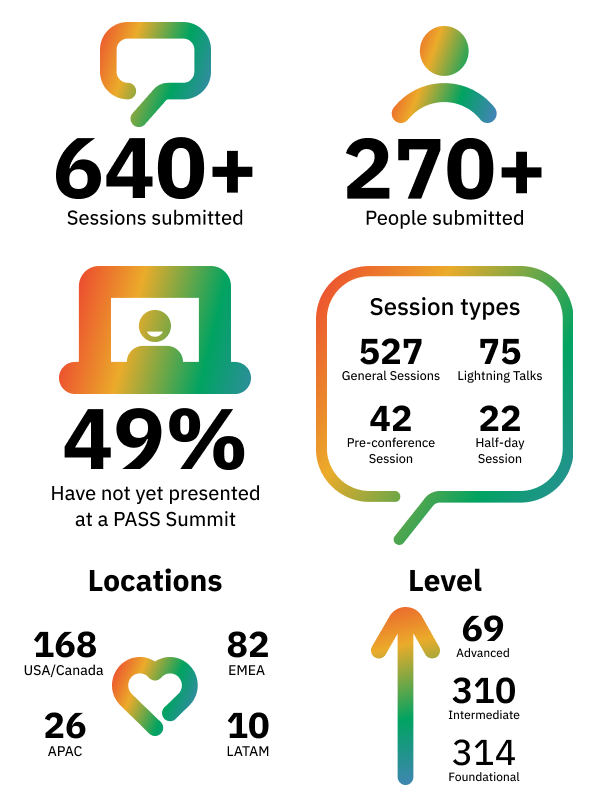 Additional Call for Speakers submission results:
Track
Database Management (204)
Analytics (197)
Development (183)
Architecture (128)
Professional Development (66)
DE&I (9)
Theme
Back to Basics (274)
Reach for the Clouds (228)
Level up (208)

Overview
The largest gathering of data platform professionals, now PASS Data Community Summit, is a free to attend online conference for 2021 and will continue to support and grow the community in an effort to globally Connect, Share, and Learn.
Content Framework (Apr 28 - May 6) – theme and content framework strategy researched, analyzed, drafted, and finalized
Call for Speakers (May 27 - Jun 17) – open for three weeks
Abstract Review (Jun 21 - Aug 12) - program committee reviews, analyzes, and selects CFS sessions over 8 weeks
CFS Speaker Notification (Aug 12) - selected speakers notified via email
CFS Announcement (Aug 19) - speakers and sessions announced
Session Schedule Announced (Sep 30) - Full session schedule posted
Speaker deadline (Oct 25) - due date for uploading session pre-recordings, presentations, and supporting materials
Content
Based on the community survey, which received almost 1,000 responses, SQL Server topped the list of priority learning, followed closely by Power BI and Cloud and Azure.
Database Administration, Professional Development, Machine Learning, Business Intelligence, Data Platform, Data Science, and Data Governance all topped the list in topic suggestions.
Our plan for this year's content includes three themes that are applicable across all tracks of the conference:
Back to Basics
Sessions focused on the fundamentals, not necessarily entry level, but practical learning to help community members solve and improve day-to-day tasks.
Reach for the Clouds
Sessions focused on all things Cloud – content that shows attendees how to migrate and modernize their data stack.
Level Up
Sessions focused on supporting community members in advancing their career as data professionals with advanced topics covering both technology and professional development.
Session categories
The conference session categories are as follows:
Pre-conference Sessions (Full-day)
Half-day Sessions (2.5-hours + 15-minute Q&A)
General Sessions (60-minutes + 15-minute Q&A)
Panel Sessions (30-minute or 60-minute discussions)
Lightning Talks (10-minutes)
Online conference logistics
The online conference platform is almost confirmed, but until that time, what we can tell you is:
We will be choosing the best online conference platform that meets the needs of attendees, speakers and sponsors. Our aim is to make presenting your session, whether live or pre-recorded, as smooth as possible and to provide attendees with a great experience.
Pre-conference sessions will be live streamed on the Monday and Tuesday and be paid for by attendees, with all proceeds given to the speakers.
General Sessions will take place Wednesday to Friday.
Summit sessions will consist of, roughly, 60%-70% pre-recorded and 30-40% live stream.
We are exploring innovative ways for speaker Q&A, whether that be live following the session, or a day later, or with a panel discussion, stay tuned for updates.
General sessions will be available on-demand for free to all registrants and will be made generally available on the PASStv YouTube channel as soon as possible following the event.
Abstract review
The content programme team includes Grant Fritchey, Kathi Kellenberger, Marcella McKeown, (previous Programme manager at PASS HQ), and a program committee of 19 volunteers from the community. The team will be reviewing and analyzing CFS sessions from June 17 to August 12.
Requirements and considerations
Presenting a session at PASS Data Community Summit is voluntary.
You can submit a maximum of:
1x Pre-conference Session
3x General and/or Half-day Sessions
3x Lightning Talks
Submitted sessions should be unique and preferably not presented within the past year.
Sessions are encouraged to provide alternative points of view and solve challenges through the use of a range of platforms and/or tools or best practices.
Sessions should not include products, services, or vendor marketing/sales pitches.
Selected speakers should provide session materials for attendees to download and follow.
Be prepared for the possibility of pre-recording your session and the expectation to attend your scheduled session to host a live Q&A.
While optional, be open to scheduling more than one Q&A discussion for your session, and possibly in uncomfortable time zones.