PASS Data Community Summit 2023 is taking place November 14-17 in Seattle, WA. With the main event just around the corner here's an update on what you can expect.
Visiting the Exhibit Hall is the best place to learn about how our Exhibitors' products and services can support you, plus you can check out some of the great social events and prize draws happening throughout the week!
The Exhibit Hall opening times throughout Summit are:
Wednesday November 15: 9:30 am – 3:15 pm, 6:00 pm – 8:00 pm (Exhibitor Reception)
Thursday November 16: 9:30 am – 3:30 pm
Friday November 17: 9:30 am – 2:00 pm
There's nothing quite like attending Summit in person, so if you haven't yet secured your spot for #PASSDataSummit it's not too late to register! Secure your spot today, and you'll be in great company with like-minded data professionals in Seattle.
Wednesday, November 15
2:00 – 3:15 PM 
6:00 – 8:00 PM (Exhibitor Reception) 
Stop by the Microsoft booth in the Expo Hall to chat with their engineers at their "Ask the Experts" product areas. You can also attend a theater session at their booth theater and be entered into a draw to win some awesome raffle prizes at the end of each day!
AWS will be giving out a $500 Amazon gift card; you must visit their booth to enter the draw which will take place at 7:50 PM at the AWS booth.
Check out the Datavail booth to get a drawing done by a caricaturist.
Enjoy a beer at the Timextender and SolarWinds booths. Pretzels will also be on offer at the SolarWinds booth.
8:15 – 11:00 PM 
After the Exhibitor Reception, keep the fun going and join us for Games Night, kindly sponsored by Datavail.
Games Night will take place in Room 6E, and there will be an assortment of board games available for you to take part in. Schedule your spot here.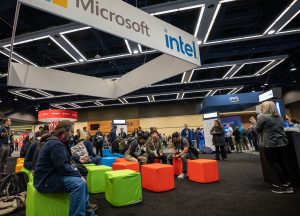 Thursday, November 16
1:30 – 3:30 PM 
Enjoy a beer and mini quesadillas at the Datavail booth.
2:55 – 3:10 PM 
Take part in this year's Scavenger Hunt by visiting all of the following participating booths from Wednesday, November 15 to Thursday, November 16 for a chance to win one of several amazing prizes. To be eligible for a prize you must have visited and had your badge scanned at all 10 participating booths by Thursday at 2:00 PM. You will then be automatically entered into the draw which will occur in the Exhibit Hall on Thursday, November 16 from 2:55 PM – 3:10 PM at the Exhibitor Help Center. Attendees must be present to win.
Home Theatre Projector
$500 Air BNB Gift Card
$500 Best Buy Card
Nintendo Switch Deluxe Bundle
Meta Quest 2
De'Longhi Digital Combination Espresso and Coffee Maker
Apple AirPods Pro
Friday, November 17
 1:05 – 1:25 PM  
Take part in this year's

Exhibitor Raffles

by visiting the participating booths and get your name entered into a draw to win some great prizes!

The draws will occur in the Exhibit Hall at the Exhibitor Help Center at 1:05 PM on Friday. You must be present at the draw to be eligible to win a prize.

Participating booths and their giveaways are:

Redgate – LEGO® App-Controlled Grand Piano and a LEGO® Fender® Stratocaster™

 

 

SolarWinds – Yeti Cooler

 

 

Beacon Intelligence – Sony Noise Cancelling Wireless Headphones

 

 

EPI – Use – Meta Quest 3 VR Headset

 

 

Power BI Sentinel – LEGO The Guardians' Ship

 

 

Quest – Meta Quest 2 VR Headset

 

 

TimeXtender – Electric Skateboard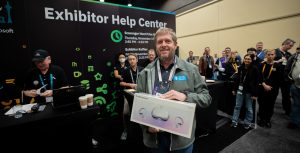 Check out the following sponsor activity:
DBeaver welcomes everyone to booth #410! Get unique stickers, transparent bags, wooden coasters, and more cool swag!
Pure Storage invites you to stop by booth #200 and receive a custom AI generated superhero image of yourself to show off your superpowers! You can also meet their Microsoft experts who can share architectural tips and best practices in managing your SQL Server database storage.
SolarWinds welcomes attendees to hear about all things database from their database management to their free tools, such as DBA xPress and Plan Explorer. They'll be offering a local craft beer during the exhibitor reception, and make sure to enter into their Sweepstakes to win a Yeti Cooler! They'll also be having a book signing by Kevin Kline!
Redgate crew will be on hand at booth 100 to share more on the latest products and features following a new product launch at Summit 2023! Plus, you'll be able to enter some cool new giveaways and collect some swag, including a limited-edition Lego Kathi Kellenberger (whilst stocks last).
Dbvisit invites you to stop by their booth where you'll be astounded by Danny the Magician, while Vijay demonstrates the magic of StandbyMP Disaster Recovery software. Dbvisit will have magic tricks for everyone to take home and Limited Edition Database Magic T-Shirt to give away.
CData Software will be giving away a $200 Flight Voucher to the airline of your choice as well as some cool t-shirts.
Soaring Eagles Data Solutions welcomes you to enter to Win a LEGO® Nintendo Entertainment System™; simply book your FREE Flight Center Demo for a chance to win! Flight Center is a MUST SEE for all DBAs or IT Leaders with large Database Environments.
Datasparc invites you to drop by booth #405, scan the QR code, and you'll be entered to win a grand prize.
DB24 will be exhibiting their DBA Automation solutions at the PASS Data Community Summit for the first time this year, and it signifies their entry into the North American market. Come by booth 409 to get your deck of playing cards so that you stop gambling with your data.
See what our sponsors are saying about the sessions they'll be hosting; watch our Sponsor YouTube playlist here.