The wait is over. We're excited to announce that PASS Data Community Summit is returning to Seattle on November 14-17! Read on to find out what's in store for Summit 2023.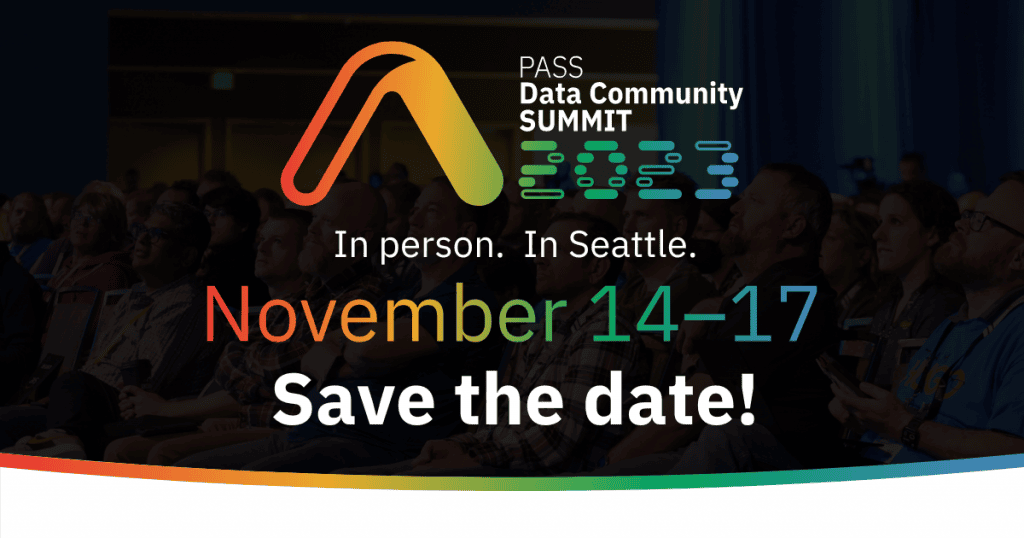 Summit. In person. In Seattle.
This year, the week-long conference will take place exclusively in person. We're always looking to improve and evolve Summit for the data community, and last year's feedback from sponsors, speakers, and attendees made it clear what you all value most: the human connection that only an in-person conference can bring. We'll be sharing more about the feedback we received from Summit 2022 in a followup post next week.
Although both online and in-person attendees rated the 2022 event highly, we saw a discrepancy in these ratings. NPS (net promoter) scores, in particular, came in at 67 for the in-person event (on the cusp of excellence!), whereas online NPS scores sat at 44 – still good, but substantially lower. This aligns with industry data we've seen from other hybrid events. On the whole, the feedback we've heard suggests that the online version of the event hasn't created the same valuable experience as going to Summit in person – and we want to target our effort at creating the magic right where it happens.

This change means that we can focus on growing the in-person networking opportunities, access to experts, and high-quality training that so many Summit attendees value.
We'll be balancing this change with a more focused program. Despite last year's program being the biggest and best yet, we heard feedback that the volume of sessions was too high, and some sessions weren't well attended due to clashes. So you can expect clearer themes and fewer tracks, making it easier to build your perfect schedule.
While there's good evidence that focusing our time and energy on delivering a solid and engaging in-person event, we appreciate that this is a difficult decision for those of you who find attending Summit in person prohibitive for whatever reason. One way we'll help the whole community access Summit is by making on-demand recordings available to purchase for everyone after Summit, including for those who aren't able to attend in-person. Registered attendees will have access included until Feb 19, 2024. We'll also be exploring what else we can do to make Summit more accessible.
Growing & evolving Summit
PASS Data Community Summit's heritage is rooted in the Microsoft data platform, and this historic focus continues to be incredibly popular with our attendees. However, adoption of database platforms and technologies is continually evolving, and we've heard this from the community too. Given Summit's focus on surfacing innovation and new trends, you can expect to learn about a variety of database platforms beyond the Microsoft data platform, including PostgreSQL, MongoDB, Oracle, and MySQL. We'll also be seeking session submissions on analytics, machine learning & AI, and more. We're also aiming to maintain our goal (which we exceeded in 2022) of 40% of speakers, co-speakers and moderators coming from underrepresented groups. And we're excited to welcome a new group of first-timers to Summit!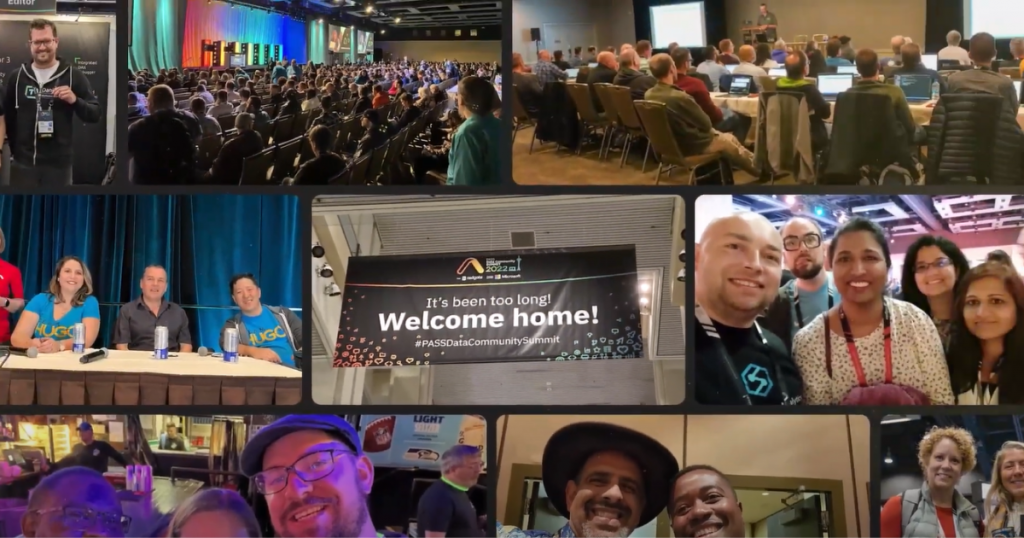 Stay up to date with Summit
This is just the beginning. The best ways to stay up to date with plans for Summit 2023 are by signing up for regular news in your inbox and following us on Twitter. And we'll be sharing another update shortly on our key insights and takeaways from Summit 2022.
Help shape Summit 2023 & win a 3-day pass
What would you like to learn at Summit 2023? We're shaping the program and we'd love your input so we can bring you the most relevant themes and speakers at Summit. As a thank you, you'll be entered into a prize draw to win a 3-day conference pass to attend PASS Data Community Summit 2023! The survey closes February 23rd, 9 pm PST. Complete the survey here.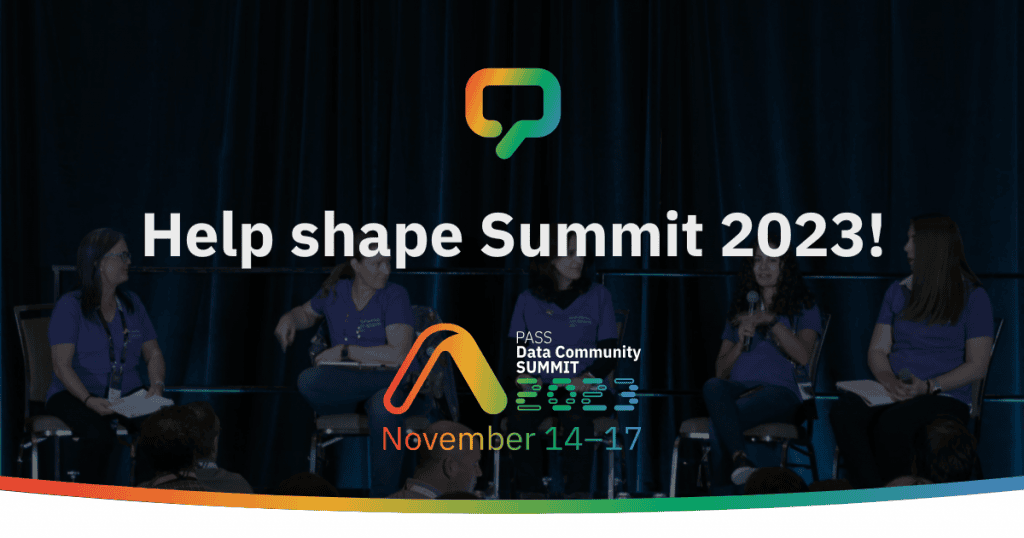 Call for volunteers – Program Committee 2023
Have you ever thought about becoming a member of our program committee? Submit your application here.
The committee reviews and rates abstract submissions from the Community Call for Speakers, ensuring a balanced and diverse program for all. The abstract review will run for six weeks, from April 7 to May 19. There are several other volunteer opportunities leading up to and during the Summit, which you can also register your interest for. Applications for the program committee close on Thursday, February 23, 2023, at 11:59 pm PST, and results will be emailed to all applicants by March 16, 2023.